Balanced Health Care
for the Longevity of Your Pet
Loving Touch Animal Center, located in Stone Mountain, is a full-service veterinary clinic offering contemporary medicine as well as traditional / alternative medicine such as acupuncture, skeletal balancing and additional holistic services. Your pet will receive excellent care from our experienced staff—all with a gentle, loving touch.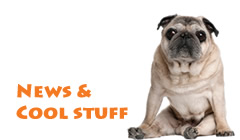 Caring for a Paraplegic Canine
Dr. Michelle Tilghman, in Animal Wellness Magazine
There are many reasons why a dog might suffer limb paralysis—and just as many ways to help him overcome his disability. (
Download Article
)
What Color is Your Dog's Tongue?
Dr. Michelle Tilghman, in Animal Wellness Magazine
The answer could tell you something
important
about his health. (
Download Article
)